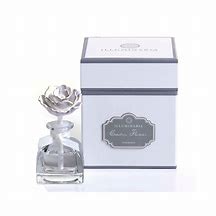 Illuminaria Diffuser -marroco peony
Regular price $49.00 $31.85 Sale
This beautiful in both ways diffuser will capture your senses by its looks and scent.
This elegant, vintage-styled porcelain diffuser is a beautiful addition to any room. No need for reeds, the porcelain flower is designed to draw attention draw in the oil and diffuse the fragrance throughout the room. Comes in a lovely gift box, making it a great gift
What's Included?1 Oil(s)
Features
An exotic, deeply floral scent with delectable creamy undertones
An excellent way to add a spot of fragrance to your home or office
Bottle Dimensions: 2.75" x 2.75" x 4.5"; Box Dimensions: 4.75" x 4.75" x 7.25"